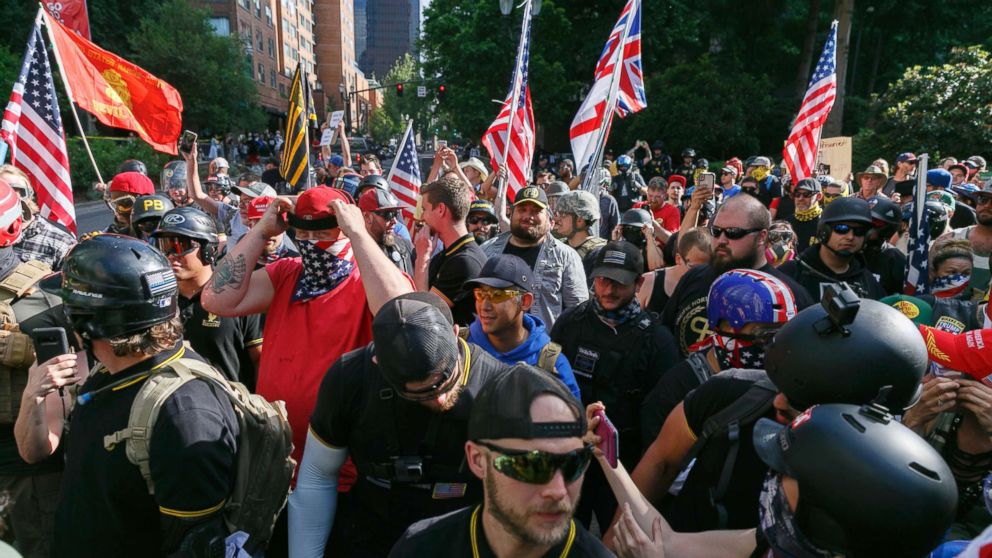 Protests have turned violent in several cities while clashing with right-wing groups. A Kalamazoo City Commissioner called out a Kalamazoo pastor who organized a unity rally the same day the Proud Boys planned to protest. The Southern Poverty Law Center considered The Proud Boys a hate group. Several fights broke out when the Proud Boys came face-to-face with counter protesters in downtown Kalamazoo Saturday Aug. 15, 2020. Nathan Dannison, who organized the prayer vigil and unity rally, said at the he did not know the Michigan People's Defense League was coming.
Kalamazoo City Commissioner Erin Knott said violence may have been avoided if counter-protesters stayed home. "I think that only gave the Proud Boys the intention and the fuel they so desire. We know from researching the Proud Boys, they don't start the fight, they finish the fight," Knott said. The two groups violently clashed. Video showed members of the Proud Boys use pepper spray on counter-protesters and people using torn down street signs as bats. The violence was contentious and assaultive on both sides.
In Georgia, a pro-Confederacy rally drew armed, far-right militia members to the Stone Mountain Confederate Memorial in Stone Mountain Park Saturday. Videos on social media showed far-right protestors attacking anti-facism protesters with pepper spray as the counter-protesters chanted "Go home, racists!" and anti-facism protesters grabbing Confederate flags and setting them alight. The protest dispersed when police in riot gear moved in on the crowd at around 1 p.m., and ordered demonstrators to leave or be arrested. Photos from the scene showed the National Guard moving in as well.
After a long day of peaceful protests, agitators descended on Chicago after many protestors went home. The riot resulted in 24 arrests after "multiple agitators" used black umbrellas, changed their appearance and assaulted officers by using skateboards, bottles, bicycles and other projectiles as well as mace. One peaceful protestor defended the actions of police, saying officers responded proportionately to get the situation under control and used pepper spray to deter agitators. Seventeen officers were injured during the clash.
In Portland, Oregon, right-wing extremists and members of the "alt-right" group Patriot Prayer organized a small rally, where they shot pellets from paintball guns and pepper spray against counter-protesters. Patriot Prayer and its leader, Joey Gibson, have organized three of the most violent protests in Portland's recent history, on Aug. 6, 2017; June 30, 2018; and Oct. 13, 2018. He also organized a large Aug. 4, 2018 rally that led police to use crowd control agents on leftist counter-demonstrators, severely injuring several people with flash-bang grenades.
Protests have happened nightly in Portland for more than two months following the killing of George Floyd by Minneapolis police. Police are looking for a suspect shown on video assaulting a driver until he was unconscious. Authorities had received a report around 10:30 p.m. of protesters chasing a truck a few blocks from the downtown federal courthouse. The driver crashed and was then assaulted. Video posted online showed the driver of the truck sitting in the street next to the vehicle. A crowd gathered around him and repeatedly punched and kicked him in the head until he was bloody. It wasn't immediately clear what led to the crash or the confrontation. When police arrived, the man was unconscious. The victim of the assault has been released from a hospital and is recovering.