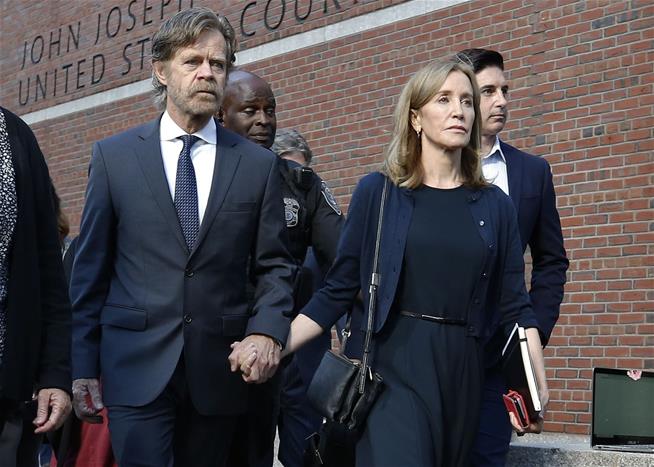 U.S. District Judge Indira Talwani sentenced actress Felicity Huffman to two weeks in prison for paying $15,000 to get her daughter into college by having someone correct her answers on the SATs.  Huffman also received a $30,000 fine and 250 hours of community service.  She had pleaded guilty to conspiracy to commit mail fraud and honest services mail fraud. Her lawyers asked for no jail time, one year of probation, 250 hours of community service and a $20,000 fine.  Her sentence likely means other parents who've pleaded guilty in the nation's college admissions scandal will spend time behind bars. It could also mean that others who made significantly larger payments will end up with more lenient prison terms than prosecutors say are fair.
During Huffman's sentence she told the courtroom she was deeply ashamed.  Judge Indira Talwani said, "Ultimately, you knew it was fraud, it was not an impulsive act.  Trying to be a good mother doesn't excuse this."  Talwani added that the sentence she handed down was "the right sentence here," but also told Huffman "You can rebuild your life after this," the judge said. "You've paid your dues."  Huffman will report to prison in six weeks, on October 25. Where she'll serve her sentence has not been announced and will ultimately be decided by the Bureau of Prisons.
Fifty-two people have been charged as part of the college admissions bribery scandal known as "Varsity Blues."   Of the 52 people charged in the scandal, 35 are parents.  Fifteen, including Huffman, have pleaded guilty in deals with prosecutors, while 19, including actress Lori Loughlin, have pleaded not guilty and are preparing for trial.  Rick Singer, the mastermind of the nationwide college admissions scandal, was paid to have cheat on their children's SAT or ACT while others paid substantially more to get their children falsely tagged as athletic recruits as a way into prestigious schools.  Huffman is the first parent to be sentenced and prosecutors sought one month prison time for Huffman.  Prosecutors are pushing for longer sentences for other defendants — more than three years in some cases.
The next parent to be sentenced in Boston federal court is Devin Sloane, CEO of Los Angeles-based waterTALENT.  He pleaded guilty to paying $250,000 to Singer's sham nonprofit to falsely designate his son as a water polo player to gain acceptance into the University of Southern California. Prosecutors are seeking one year in prison for Sloane.  Sloane's hearing is scheduling for September 24th.  Two days later, Stephen Semprevivo, a former executive at Cydcor, also based in Los Angeles, will be sentenced. He pleaded guilty to paying $400,000 to Singer to get his son admitted into Georgetown University as a fake tennis recruit.  Prosecutors have asked that Semprevio receive 15 months in prison.
Both upcoming cases will reveal whether the judge treats the recruiting scheme the same as the testing scam, and whether she comes down harder on parents who paid more to Singer.   Longer sentences could be in store for parents who participated in the recruitment scheme because it had a more "direct effect" on the admissions process than test tampering. Such parents, including Loughlin, accused of paying $500,000 to Singer, have argued they made "legitimate donations" to Singer's nonprofit, which they said had a history of donating to colleges.
Prosecutors have argued parents who paid more money to Singer should receive longer prison terms.  An order by the judge released hours before Huffman's sentencing could cap sentences at six months for parents regardless of their how much they paid.  Judge Talwani ruled against the government's request to sentence defendants under the federal commercial bribery statute, which allows more severe sentences depending on the amount of money paid. Instead, all sentences will be based on fraud statute guidelines, which recommend six months or less in prison for the offense.