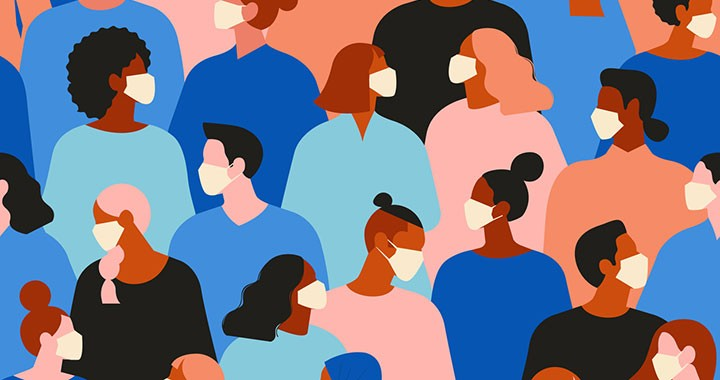 With more than 2.06 million cases, America has the world's largest COVID-19 confirmed cases to date. It's also first when it comes to the total number of deaths, with more than 117,000 people having died of COVID-19 complications. Nearly 7.5 million people have had confirmed infections worldwide and over 420,000 people died.  As US states are opening up their economies, Harvard Global Health Institute director Dr. Ashish Jha predicts that the US will cross 200,000 deaths sometime in September.  Jha explained his estimates only take into account the next few months, but COVID-19 will obviously not disappear after that.
"The pandemic won't be over in September so I'm really worried about where we're going to be in the weeks and months ahead.  We're really the only major country in the world that opened back up without really getting our cases as down low as we really needed to," Jha noted, adding that the US is the only advanced country in the world not to have a proper contact tracing system setup. People should continue to maintain social distancing and wear masks, Jha advised. They should also "put pressure" on the government to advance testing and contact tracing programs.
"But even if we assume that it's going to be flat all summer, that nothing is going to get worse, we're going to stay flat all summer — even if we pick that low number, 800 a day — that's 25,000 a month," Jha pointed out. "In three and a half months, we're going to add another 87- 88,000 people, and we will hit 200,000 sometime in September."  Jha said anyone who still thinks the summer will bring a dramatic decrease in cases is "engaging in wishful thinking." Coronavirus cases and associated hospitalizations may be falling in Massachusetts, New York, New Jersey, and Connecticut, he said, but cases are surging in Arizona, Texas, Florida, and the Carolinas. The Harvard professor of public health said he is not trying to scare people into staying home by raising concerns about the number of deaths he's predicting.
In Brazil, the coronavirus death toll has topped 43,000 with the total number of confirmed cases at over 850,000. It now has the second-highest number of COVID-19 deaths and cases in the world behind the United States.  According to the health ministry, the COVID-19 mortality rate in Brazil is five% and nearly 388,500 people have recovered from COVID-19 in Brazil.
China reported its highest number of daily infections in months, raising concern over a second wave of the outbreak. In Beijing, authorities have reimposed lockdown measures after a new cluster of cases emerged last week.  The cluster, the capital's first locally transmitted cases in nearly two months, raised mainland China's total number to 83,132. Almost 4,700 people have died in China, where the pandemic originated in December.
The World Health Organization says the pandemic is accelerating in Africa, with the most affected countries being South Africa, Algeria, Nigeria, Egypt and Sudan.  In Yemen, medical authorities warn deaths linked to the pandemic could exceed war-related fatalities in the port city of Aden.  The best way to prevent illness is to avoid being exposed to this virus. Learn how COVID-19 spreads and practice these actions to help prevent the spread of this illness.
Covid 19 isn't going anywhere anytime soon so the recommendations to help prevent the spread of COVID-19 as the world's economy reopens are:  Keep 6 feet of social distance between yourself and others; wear a mask or cloth covering when around others-especially when in situations where you can't maintain the 6 feet of social distancing; clean your hands often, either with soap and water for 20 seconds or a hand sanitizer that contains at least 60% alcohol; avoid close contact with people who are sick; disinfect frequently touched surfaces regularly and stay home if you are feeling any symptoms.