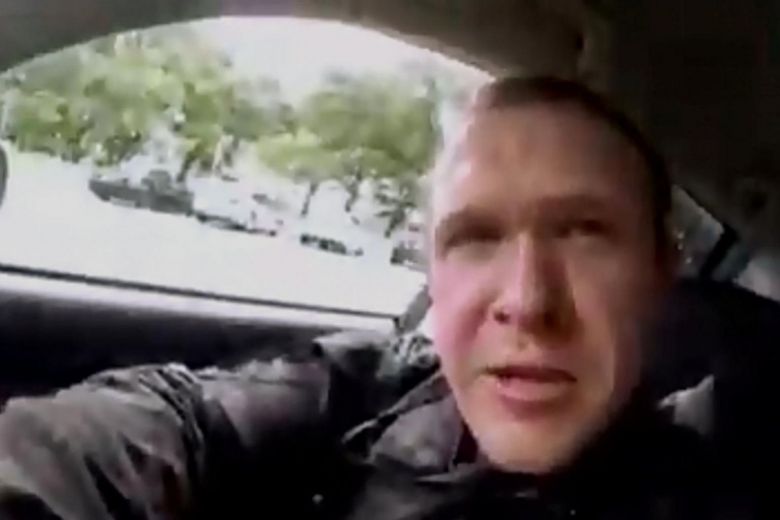 At least 49 people were killed and 48 seriously injured in mass shootings at two mosques in the New Zealand city of Christchurch on March 15, 2019.  The attack occurred around lunchtime when the mosques were full of worshipers. Footage of the massacre was streamed live online, and a rambling 87 page manifesto laced with white supremacist references was published just before the shootings unfolded.  Police also neutralized two improvised explosive devices attached to one vehicle near the mosque.
The suspected shooter, Brenton Tarrant, 28, live-streamed 17 minutes of video which included footage of himself inside the first mosque, going room-to-room, victim to victim, shooting the wounded from close range as they struggled to crawl away.  In the 6 minutes Tarrant was inside, forty-one people were killed at the Al Noor Mosque.  The live streamed footage also showed the gunman casually talking and laughing as he walked out of the mosque where he shot at people near the area before driving away at high speed, heading for the Linwood Islamic Centre, about 3 miles away.  Another 7 people were killed at the Linwood Mosque, an eighth victim later died in the hospital. Tarrant was apprehended as he fled the Linwood Mosque when two police officers ran his car off the road.
Tarrant has been charged with murder and two other men remain in custody, although their link to the attack is unknown.  None of the men in custody have a criminal history.  Tarrant is an Australian-born former personal trainer who is believed to have been radicalized during his travels abroad. According to the Independent, Tarrant met with right-wing extremists while taking a trip to Europe in 2017, and also traveled to Pakistan and North Korea.  Authorities have said that Tarrant had become obsessed with terrorist attacks committed by radical Islamists in Europe in 2016 and 2017.
According to his manifesto, he started planning a revenge attack about two years prior to the attack and chose his targets three months in advance.  The manifesto expresses several anti-immigrant sentiments including hate speech against migrants, white supremacist rhetoric, and calls for non-European immigrants such as Roma, Indians, Turkish people, Semitic people and others allegedly "invading his land" to be removed.  Tarrant describes himself as an ethno-nationalist and refers to revenge for European civilians who were casualties in Islamic terrorist attacks within Europe as motivation for his attack.  He repeatedly mentions revenge for Ebba Åkerlund, a victim in the 2017 Stockholm truck attack.
Prime Minister Ardern called the incident an "act of extreme and unprecedented violence" and said "this is one of New Zealand's darkest days."  She also described it as a well-planned terrorist attack.  Christchurch mayor Lianne Dalziel stated that she never thought "anything like this" could happen in New Zealand, saying "everyone is shocked".  Many other politicians and world leaders have condemned the attacks and world leaders attribute the attack to rising Islamophobia.
Prime Minister Ardern announced: "Our gun laws will change, now is the time… People will be seeking change, and I am committed to that."  Attorney-General David Parker was later quoted as saying that the government will ban semi-automatic guns but later said the government had not yet committed to anything and that regulations around semi-automatic weapons was "one of the issues" the government would consider.