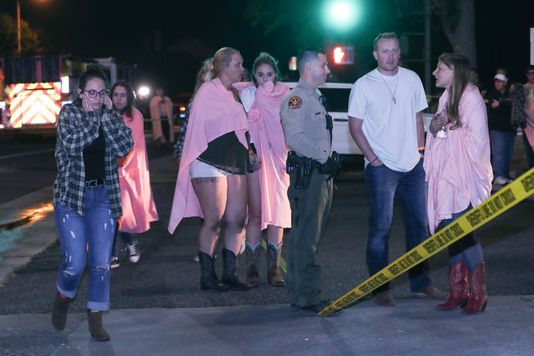 Twelve people are dead after a mass shooting at the Borderline Bar & Grill in Thousand Oaks, California.  Police identified the gunman as 28-year-old Ian David Long, a Marine veteran who had deployed to Afghanistan and had a history of mental health issues.  Long was found dead inside the kitchen area of the bar when the SWAT team entered the building.  Most of the victims were college students attending country music night.  Authorities said as many as 22 people had been injured and taken to the hospital.  Nine men and three women were killed in the shooting including a 27-year-old Navy veteran who survived the 2017 Las Vegas mass shooting during the Route 91 Harvest festival.
Police say that at around 11:20 p.m., Long shot security guard Sean Adler, 48, just outside the bar with a legally purchased .45-caliber Glock 21 semi-automatic pistol with a banned high-capacity magazine.  Long entered the bar and began throwing smoke bombs before firing approximately 30 rounds into the crowd of more than 150 people.  Patrons dropped to the ground, dashed under tables, hid in the bathroom and ran for exits, stepping over bodies sprawled across the floor.
Three minutes after the first 911 calls, 54 year old Ventura County Sheriff Sgt. Ron Helus and a California Highway Patrol officer arrived at the scene.  The officers heard gunshots coming from the building.  Helus ran inside and was immediately shot by the gunman.   The Highway Patrol Officer dragged Helus outside to safety but died from his injuries hours later.  The other victims included Cody Coffman, 22; Alaina Housley, 18; Justin Meek, 23; Daniel Manrique, 33; Noel Sparks, 21; Jake Dunham, 21; Blake Dingman, 21; Kristina Morisette, 20; Marky Meza Jr., 20 and Telemachus Orfanos, 27.  Orfanos's family said he had survived the mass shooting at the Route 91 Harvest festival that left 58 people dead.
In fact, many regular patrons of the Borderline Bar & Grill were survivors of the Route 91 mass shooting.    A regular patron, Brendan Kelly, 22, was among those who survived both the Vegas massacre and the shooting at the Borderline.  "It was our home for the probably 30 or 45 of us who are from the greater Ventura County area who were in Vegas. That was our safe place where we went to the following week, three nights in a row just so we could be with each other."
Police say that Long frequented the Borderline Bar & Grill and had previous run-ins with the law, including a disturbance in April at Long's home where he lived with his mother.  Police say he was irate and acting irrationally.  He was evaluated by mental health professionals but was cleared by the specialists.  Long served in the Marine Corps and was on active duty from August 2008 to March 2013, according to Defense Department records.  Long had been married in 2009 in Honolulu, Hawaii, but was divorced in April 2013 in Ventura County, California.
Friends of Long described him as a loner but said he was stable and didn't show any signs of aggression.  Neighbors tell a different story, with some saying they'd frequently heard him arguing with his mother at all hours and others keeping their distance because he seemed troubled.  Police have not disclosed a motive in the shooting.