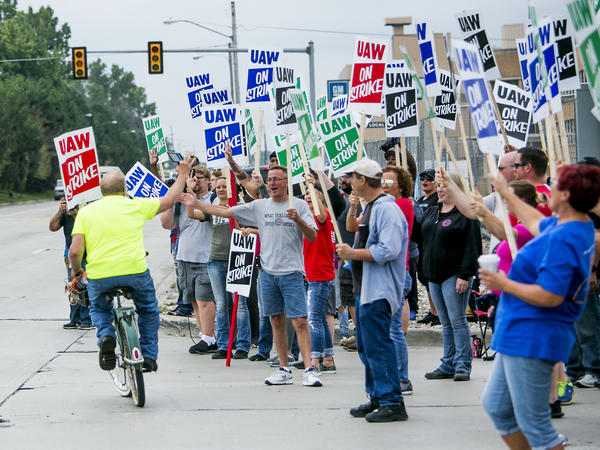 On September 15th, nearly 50,000 members of the United Auto Workers (UAW) launched a strike, walking out of over 50 General Motors facilities.  Workers say GM continues to deny employees' demands for fair conditions and compensation despite leading the company to record profits following bankruptcy and a federal bailout.  The nearly 50,000 full-time and temporary workers represented by the UAW make up about half of its workforce.GM workers say they are pushing for a more equitable contract that will guarantee better wages for new hires, stronger health-care benefits and more job security. Workers are forgoing their paychecks during the strike, though the UAW will pay them $250 a week from its strike fund.
GM has made over $30 billion in the past six years, since recovering from its 2009 bankruptcy.  Although they received profit-sharing checks that totaled $52,500 for the same period, workers want pay raises that will show up year after year.  They gave up cost-of-living pay raises and made other concessions to keep the company afloat during its 2009 bankruptcy, and now they want to be repaid. Longtime workers have received only two raises since 2010.  Workers hired after 2007 still make less than older workers, and the union wants to erase that gap.
The company is facing a global auto sales slowdown and also says health care costs are too high, and it wants to cut labor costs so they are closer to U.S. factories owned by foreign competitors. Senior GM workers now make around $30 per hour, but with benefits, it adds up to $63 per hour.  Total labor costs run an average of $50 per hour at the foreign plants.  The car giant has moved to close a handful of production facilities in the United States in recent years despite strong profitability margins.  GM made $8.1 billion in profit after taxes last year but announced the closure of four factories, scuttling thousands of jobs.  GM says it has offered to make $7 billion in investments and create 5,400 jobs, including introducing electric trucks, opening a battery cell manufacturing site and investing in eight existing facilities.
The strike has effectively halted GM's production in the US and just a day after the strike, GM responded with a letter announcing they had cut off health insurance for the nearly 50,000 people on picket lines across the country.  GM spokesman David Barnas said the decision to cut workers' health care was a standard practice during stoppages, likening it to the cessation of worker paychecks.  A spokesperson for the UAW stated that they would cover the striker's health-care fees under COBRA in the interim from the pool of money it keeps for strikes.  Employee dental and vision plans will not be covered during the strike.
The effects of the strike have been felt quickly, when GM dismissed 1,200 workers from an assembly plant in Ontario, Canada just three days after the strike started.  GM has said the temporary layoffs were the result of parts shortages in the United States because of the strike. The factory had produced full-size pickup trucks.  Analysts say GM could be losing as much as $50 million to $100 million a day from the stoppage.