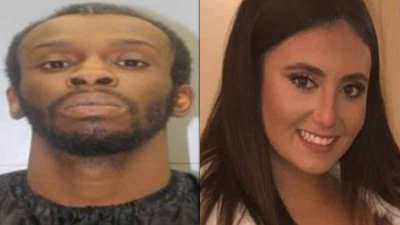 Autopsy results have been released in the case of murdered 21-year-old USC student Samantha Josephson, showing she died of "multiple sharp force injuries." Police believe the University of South Carolina senior and aspiring lawyer was kidnapped and killed after she mistakenly got into a car she believed to be her Uber ride after leaving a bar around 2am Friday morning in Columbia, South Carolina.  The suspect, Nathaniel Rowland, was arrested Saturday and charged with murder and kidnapping.
The investigation began after friends of 21-year-old Josephson filed a missing person's report around 1:30 p.m. Friday. They told police they were separated from her the night before in the Five Points district and had not been able to get in touch with her after she did not return to The Hub, an apartment complex on Main Street where she lived with friends.  Clarendon County Sheriff's deputies responded to a report of a body found in a rural area 70 miles from Columbia, around 4pm Friday. Turkey hunters found a body, later identified as Josephson, in a field near a wooded area about 40 feet off a dirt road.
Around the same time, Columbia police publicized Josephson was missing and shared details of a related vehicle.  Surveillance video shows Josephson standing near the road of a crowded street corner, on her cell phone, reportedly trying to find her Uber driver.  A black Chevrolet Impala pulls up into a parking spot next to where she's standing and she's seen getting into the back seat of the vehicle.  Prosecutors said 24-year-old Nathanial Rowland, who is not a driver for Uber or Lyft, activated the child locks on his car when Josephson got in, trapping her.
Rowland was arrested around 3 a.m. Saturday, after a Columbia canine officer on patrol spotted the black Chevrolet Impala that matched the description of the vehicle involved in Josephson's disappearance, two blocks from the Five Points area.  When the officer stopped the vehicle and asked Rowland to step out of the vehicle, he fled on foot.  The officer took him into custody after a foot chase and returned to the vehicle, where a large amount of blood was discovered in the trunk of the vehicle.
Investigators would later find her cell phone, bleach, window cleaner and more blood in the vehicle. Investigators also discovered that the child locks were enabled so Josephson would have been trapped in the back seat of the car.  Police say that there was a woman in the car with Rowland at the time of his arrest, she has been described as a friend of the suspect and is co-operating with the investigation.
Arrest warrants say Josephson had "numerous wounds evident on multiple parts of her body to include her head, neck, face, upper body, leg and foot."  Josephson was a senior at USC majoring in political science, according to Jeffrey Stensland, a USC spokesman from the communications department.  Josephson would have graduated this spring and had planned to start law school in the fall.
Samantha's father, Seymour Josephson, said he would dedicate himself to improving the safety of ride-sharing services.  Her mother Marci Josephson described her daughter as bubbly, loving, kind and full of life.  In her comments to the judge she said "There are no words to describe the immense pain his actions have caused our family and friends.  He's taken away a piece of our heart, soul and life."  She also described Rowland's alleged actions as senseless and vile.
Rowland has not appeared in court and the date of his bond hearing has not yet been set but he will remain in jail until then.  If convicted, Rowland could face up to life in prison or the possibility of the death penalty. Under South Carolina law, kidnapping carries up to 30 years in prison.